DYCONS99
August 5-7, 1999
Chateau Laurier, Ottawa, CANADA

DYCONS'99 Proceedings are still in preparation
DYCONS99 will be held on August 5,6,7, 1999 in Ottawa, Canada. Ottawa, Canada's leading center for high technology research and development, is a clean, green and safe city that offers the joie de vivre and local charm of a small town while providing all the excitement of a modern, cosmopolitan center and a national capital.
The aim of this meeting is to bring together engineers and scientists who are concerned with system dynamics and control. It is hoped that this congress will stimulate cross-fertilization of different disciplines involved in various aspects of engineering systems and promote the fundamentals as well as industrial applications in telecommunications and computer networks, and systems involving mechanical/manufacturing engineering, civil engineering, aerospace engineering, ocean, chemical engineering, biomedicine, and industrial engineering.
The conference will be featuring Prof. A. Lotfi-Zadeh (UC Berkely, US), as its opening keynote speaker. Other keynote speakers include Professor John Junkins (Texas A&M, US), Professor Hans Guenther Natke (Hannover, Germany), Professor Mo Shahinpoor (UNM, US), Professor A. Cantoni (ATRI, Australia), Professor T. Kapitaniak (Lodz, Poland), Professor Celso Grebogi (UMD, US), Professor Albert Gilg (Siemens, Germany).
---
Rideau Canal overlooking Parliament Building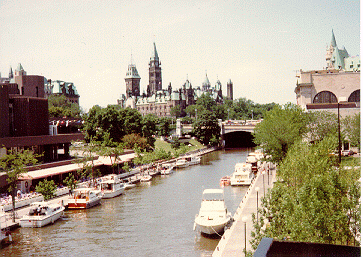 ---
---